ITIL 4 – A Comprehensive Guide for ITSM Practitioners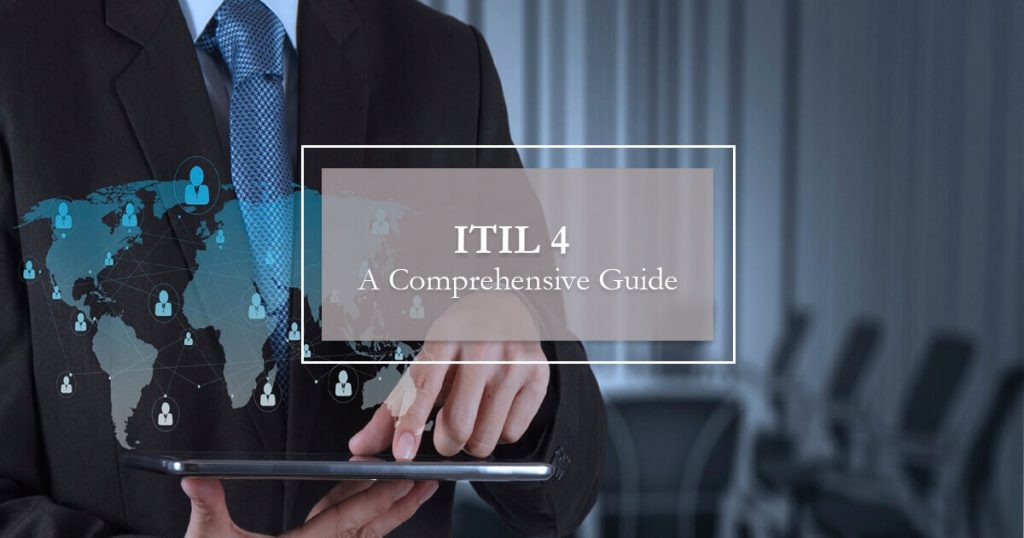 ITIL, especially ITIL 4, has proven to be beneficial for organizations which adopted it. The latest iteration of the popular ITSM framework has enabled them to change their focus to business value. The service value system (SVS) alone ensures maximum business value from IT-enabled services. 
If you're an ITSM professional whose organization has adopted or plans to adopt ITIL, this guide will help you explore the framework fully. 
What is ITIL?
While you may be familiar with the basics of ITIL®, here's a quick overview to help jog your memory. 
ITIL® (formerly known as Information Technology Infrastructure Library) is a globally recognized framework which combines over 30 years of guidance for establishing an ITSM system, ensuring consistency, and managing continual improvement through IT. 
Released in 2019, the latest iteration ITIL® 4 is designed to meet the current and future needs of organizations. It combines the strengths of ITIL® with the latest in IT and service operations. In fact, the latest version emphasizes on the business and technology world by factoring in Agile, DevOps, and digital transformation. 
According to AXELOS, ITIL® comprises of the following components which make it suitable for today's organizations. These are covered in detail in ITIL® 4 Foundation. 
Service Value System 

Guiding Principles 

Four Dimensions 

Practices
ITIL 4 Service Value System (SVS)
The Service Value System (SVS) was one of the newly introduced concepts in ITIL® 4. Its purpose is to ensure organizations co-create value with stakeholders through using and managing products and services. 
The ITIL SVS comprises the following elements:
Opportunity/Demand –

Opportunity and demand are the key inputs to the SVS. Opportunities refer to possibilities to add value for stakeholders. Meanwhile, Demand is the desire for products among consumers, both internal and external ones. 

Guiding Principles –

These are recommendations which can guide organizations which adopted ITIL. These will be discussed in detail next. 

Governance –

This is how an organization is directed and controlled. 

Service Value Chain –

The service value chain is responsible for creating, delivering, and ensuring the ongoing improvement of services. It defines activities for creating value in response to demand. 

Practices –

Practices are organizational resources which enable practitioners to carry out work or achieve an objective. 

Continual Improvement –

This is an activity performed regularly at all levels to ensure the organization meets stakeholders' expectations.
ITIL 4 Guiding Principles 
The Guiding Principles are an integral part of the SVS. They're based on the ITIL 3's 9 Guiding Principles, which have proven to support successful actions and good decisions. 
The current 7 ITIL 4 Guiding Principles are:
Focus on value –

According to this principle, everything the organization does should link back directly or indirectly to value for itself, customers, and other stakeholders. 

Start where you are –

The principles states that organizations should avoid starting over without first leveraging what they already have. 

Progress iteratively with feedback

– Applying this principle means organizations will organize work into smaller sections and then re-evaluate the initial initiative to reflect changes. 

Collaborate and promote visibility

– This principle recommends inclusion instead of silo activity. That way, organizations can ensure better buy-in, more relevance, and long-term success. 

Think and work holistically –

According to this principle, organizations need to work in an integrated way to take on activities as a whole rather than separate parts. 

Keep it simple and practical –

Simply put (no pun intended), this practice promotes the use of fewer steps to accomplish an objective and produce practical solutions. 

Optimize and automate –

Based on this principle, organizations can maximize the value of work carried out by human and technical resources. 
ITIL 4 Four Dimensions 
The updated framework highlights four dimensions which enable the effective delivery of value to stakeholders. 
Organizations and People –

This dimension defines the roles and responsibilities, systems of authority and reporting lines, and workforce capacity and competence. 

Information and Technology –

This dimension includes the information and technology required for the management of services and work. 

Partners and Suppliers –

This dimension encompasses an organization's relationships with other organizations involved in designing, developing, deploying, delivering, supporting, and ensuring the continual improvement of services. 

Value Streams and Processes –

This dimension deals with how parts of an organization operate in an integrated manner to enable value creation. 
ITIL 4 Practices
The latest version of ITIL shifts the focus from processes to practices to enable organizations to choose the processes which are closely aligned to the needs of customers and embrace new ways of working. 
There are 34 management practices which are divided into the following three categories:
General Management Practices –

There are 14 general practices which have been adapted from general business management for service management. 

Service Management Practices –

These are 17 practices developed in service management and ITSM industries.

 
Technical Management Practices –

These practices have been adapted from the technology management domains for service management purposes. They're 3 in total. 
Benefits of ITIL 4 Certification 
By now, you have an idea of why ITIL® 4 certifications are important for today's professionals and businesses alike. 
Benefits of ITIL 4 for Individuals 
In addition to adding a worldwide recognized qualification to your professional profile, becoming ITIL 4 certified offers you several benefits including:
Effective Communication –

Studying ITIL enables you to learn the standard terminology used in IT Service Management. This is important as it ensures efficiency of communication between professionals within a team or global networks. 

Added Efficiency –

ITIL enables you to work smarter to achieve the company's goals quicker. By directing your focus on customers' expectations and user experience, the framework improves service delivery quality. 

Refined Capabilities –

ITIL 4 certifications empower you with important ITSM processes, practices, and methods. This, in turn, adds to your confidence while taking on different challenges. 

Career Boost –

ITIL certified practitioners are paid an

average salary of $94,815

. This amount increases based on the jobs they handle throughout the span of their career. 
Benefits of ITIL 4 for Business 
ITIL 4 offers businesses the chance to optimize their IT processes. As a result, they can enjoy numerous benefits, including: 
Improved resource utilization 

Better competitive edge 

Decrease in rework 

Decrease in redundancy in work 

Improved availability, reliability, and security of IT services 

Improved project delivery and time 

Provision of services which meet business, customer, and user demands 
The ITIL 4 Certification Roadmap 
ITIL 4 certifications are perfect for professionals working in organizations which adopted the framework or plan to do so later. The certifications are also ideal for professionals who wish to further their career in IT service management. 
If any of these descriptions fit you, here's a quick look at the ITIL 4 certification scheme. 
ITIL 4 Foundation 
ITIL 4 Foundation is the first certification you need to achieve before advancing to the rest. As an entry level credential, it's suitable for both ITIL  newcomers as well as seasoned professionals. 
In addition to ITIL 4 basics, ITIL 4 Foundation testifies to your ability to create, deliver, and continually improve tech-enabled products and services. 
To become certified, you need to pass the certification exam. You'll have 60 minutes to attempt 40 multiple choice questions. If English isn't your first language, you'll get 15 additional minutes. To pass, you should achieve a score of at least 65%, which is 26 marks out of 40. 
ITIL 4 Managing Professional (MP)
After achieving the Foundation certification, one of the two ITIL 4 intermediate streams you can opt for is the ITIL 4 Managing Professional. 
This group of certifications is suitable for IT practitioners who are part of technology and digital teams. Collectively, they cover the practical and technical aspects of running IT enabled services, teams, and workflows. 
In order to become an ITIL 4 Managing Professional, you need to earn all the modules in the MP stream. And those are:
ITIL 4 Specialist: Create, Deliver and Support –

This module is for ITSM professionals responsible for managing the operation of IT and digital products and services. It covers service management activities as well as the creation of services. It also details the integration of value streams and activities necessary for creating, delivering, and supporting IT products and services. 

ITIL 4 Specialist: Drive Stakeholder Value –

This module is for practitioners who manage stakeholders and foster relationships with partners and suppliers. It details the interactions between a service provider and customers, users, suppliers, and partners. The module also focuses on important topics including SLA design, CX and UX designer, and multi-supplier management. 

ITIL 4 Specialist: High-velocity IT –

This ITIL 4 MP module is aimed at IT managers and professionals involved in digital services or digital transformations in high velocity environments. It details ways to enable companies to transform into successful digitally native organizations. It also covers the use of Agile and Lean, Cloud, Automation, and other working and technical practices. 

ITIL 4 Strategist: Direct, Plan and Improve –

This is a universal module which is shared by both the Managing Professional and Strategic Leader streams. Designed for managers responsible for strategy and developing a continually improving team, it aims at creating a 'learning and improving' IT organization. It too covers Agile and Lean ways of working to benefit the organizations using these ways of working. 
Achieving these modules requires that you successfully pass their certification exams. Each exam is a closed book exam which is 90 minutes long (or 113 for non-native speakers). Of the 40 multiple choice questions, you'll need to get 70%, which is 28 correct answers.  
ITIL 4 Strategic Leader (SL)
The second ITIL 4 stream you can pick after Foundation is the ITIL 4 Strategic Leader stream. The SL stream is perfect for professionals responsible for IT operations and digital services. Achieving its certifications testifies to a professional's understanding of how IT impacts business strategy. 
The launch of SL may be around September 2020. AXELOS has already shared some information on its modules. In addition to the ITIL 4 Strategist: Direct, Plan and Improve, the stream comprises – 
ITIL 4 Leader Digital and IT Strategy –

This module is for IT leaders and practitioners entrusted with IT and digital strategy. Its focus is on aligning digital business strategy with IT strategy. It also covers the impact of new technology and how business leaders should respond. 
Like the MP stream, SL modules have separate certification exams which you should pass to earn the ITIL 4 Strategic Leader designation. The exams follow the same format as MP modules – closed book, 40 questions, 90 minutes (+113 for non-native speakers), and 70% passing percentage. 
ITIL 4 Master
The highest qualification in the ITIL 4 certification scheme, ITIL 4 Master testifies to your ability to apply ITIL's principles, methods, and techniques. 
To achieve it, you should first achieve both the MP and SL streams. You also should be able to prove at least five years of experience as a leader, manager, or higher management advisory post. 
Unlike its predecessors, ITIL 4 Master doesn't require passing a certification exam. Instead, you need to explain and justify how you chose and applied ITIL and supporting management techniques to at least one practical assignment. 
Already ITIL v3 Certified?
If you already have ITIL v3 certifications, you may be questioning whether you need to make the shift to ITIL 4. 
There are several benefits to this. As you may have guessed, ITIL 4 is quite different from its predecessors. Especially since it has gone Agile and supports these new methods of work. Moreover, ITIL 4 now puts service management in a strategic context. It brings together the functions of ITSM, Development, Operations, business relationships, and governance. 
However, the biggest advantage of becoming ITIL 4 certified is to remain competitive and relevant in today's complex market. 
If you're interested in making the transition to ITIL 4, here's what you need to do:
ITIL v3 Foundation –

If you've only achieved the Foundation level, you'll need to take the ITIL 4 Foundation to transition to the new scheme. This is important considering the new material covered in the latest iteration. 

ITIL v3 Intermediate

– One method is to restart from the ITIL 4 Foundation and work your way towards ITIL 4 Managing Professional or Strategic Leader. Alternatively, you can achieve 17 credits from ITIL v3 and then take the

ITIL Managing Professional transition

module.

ITIL v3 Expert

– If you've achieved this level, simply take the ITIL Managing Professional transition module to achieve the Managing Professional and the Strategic Leader designations. Upon achieving both and meeting the certification criteria, you'll become an ITIL 4 Master. 
So, Are You Ready to Be Certified?
Your ITIL certification journey is just a click away. You can choose from our ITIL 4 certifications based on your current level, and decide whether you wish to study at your own pace or virtually with one of our talented certified trainers. 
Need to train your workforce instead? We offer corporate training solutions to help get your company up to speed with the updated IT service management framework.
So, get in touch with your training requirements and let us handle the rest.