ISO 27001 vs ISO 27701 – Which Certification Should You Go for Next?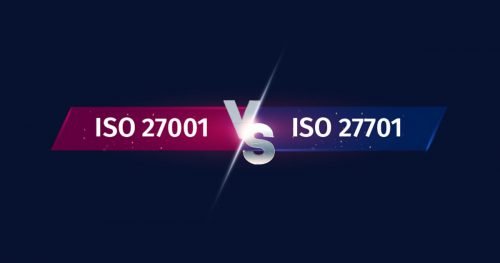 Let's be honest. If you're considering a career in data security and privacy, this is the year to start working on it. Almost every IT position has become a cybersecurity position. Especially with the many security threats introduced after shifting to working remotely and using cloud-based systems.  
However, don't apply for one of the 3.5 million cybersecurity open positions expected this year just yet. There's one thing you should have: a certification. 
Getting certified demonstrates that you have the skills employers are looking for. Even if you gained these in an educational setting rather than on the job. And certain certifications can give you an advantage over other applicants with limited experience and no credentials. 
Two certifications which are highly in-demand and testify to your knowledge are ISO/IEC 27001 (Information Security Management System) and ISO/IEC 27701 (Privacy Management System). 
What is ISO/IEC 27001?
ISO/IEC 27001 is the international Information Security Management standard. For organizations, it testifies to their ability to establish, implement, maintain, and continually improve an information security management system (ISMS). 
Moreover, it enables organizations to effectively review the safety of their information. As a result, they can ensure reliability while delivering value with their services. 
For individuals, ISO 27001 credentials indicate their knowledge of practical approaches related to the implementation of ISMS. As a result, certification holders are considered authorities on preserving the confidentiality, integrity, and availability of information. 
Becoming ISO/IEC 27001 certified further proves your ability to implement tailored information security policies and procedures that best meet your employer's unique needs. It further vouches for your ability to integrate an ISMS into the organization's processes and achieve intended outcomes. 
The following certifications can prove your competency in ISMS based on ISO 27001. 
ISO/IEC 27001 Foundation –

This credential proves your ability to implement and manage an ISMS as specified in ISO/IEC 27001. It indicates your knowledge on the modules of an ISMS as well as fundamental methodologies, requirements, and management approach.  

ISO/IEC 27001 Lead Implementer –

ISO/IEC 27001 Lead Implementer

is targeted at project managers, consultants, and ISMS implementation professionals. It informs your employer of your understanding of the best practices of planning, implementing, managing, monitoring and maintaining an ISMS.

ISO/IEC 27001 Lead Auditor –

With the

ISO/IEC 27001 Lead Auditor

certification, professionals can prove their ability to carry out ISMS audits. The certification further vouches for their ability to manage an audit program and team, communicate effectively with customers, and resolve conflict. 
What is ISO/IEC 27701?
Published in 2019, the ISO 27701 standard is the first international standard for privacy information management. It guides organizations on establishing, maintaining, and improving a Privacy Information Management System (PIMS). 
A PIMS enhances an organization's existing ISMS, enabling it to assess, resolve, and reduce the risks associated with collecting, maintaining, and processing personal information. Moreover, it ensures an organization's compliance with stringent regulations such as GDPR. 
To showcase your knowledge and skill on ISO 27701, you can select from the below certifications based on your aspirations and current role.
ISO/IEC 27701 Foundation –

This certification acknowledges your understanding of basic concepts and principles of a PIMS. It further indicates your understanding of the standard and its structure. 

ISO/IEC 27701 Lead Implementer –

If you're a manager, expert advisor, or a professional responsible for Personally Identifiable Information (PII), the

ISO/IEC 27701 Lead Implementer

certificate is ideal. In addition to proving your ability to implement a PIMS, it testifies to your knowledge on the best practices of privacy information management, and maintaining conformance with data privacy requirements. 

ISO/IEC 27701 Lead Auditor –

Auditors, managers and consultants involved in PIMS certification audits will benefit from the ISO/IEC 27701 Lead Auditor credential. This certification proves you have the required skills for performing a PIMS audit. It also indicates you're well informed on protecting the privacy of PII, and managing audit programs and teams. 
So, Which Is It – ISO/ 27001 or ISO 27701? 
After a thorough look at both standards and the certifications available for practitioners, it's time to help you make the right choice. 
First off, you should understand ISO 27701 is an extension of ISO 27001. Privacy management is an integral part of an ISMS, not an independent system. 
ISO 27701 extends the meaning of "information security" detailed in ISO 27001. While the privacy and protection of personal data is part of ISO 27001, the newer standard extends the scope to include the "protection of privacy as potentially affected by the processing of PII".
Therefore, like other standards such as ISO 27003 – Information Technology and ISO 27005 – Information Technology Risk Management, ISO 27701 ensures an organization's ISMS is designed and managed effectively. 
With this in mind, you should ideally opt for an ISO 27001 certification before moving on to ISO 27701. While you can jump to ISO 27701 certifications directly, you may have trouble understanding privacy management as a whole and from the perspective of an ISMS. 
LearningCert can prepare you for the certification exams related to the ISO/IEC 27001 and ISO/IEC 27701 certifications. Simply enroll in one of our upcoming virtual-instructor training sessions to train with accredited trainers with years of practical experience. 
Want to train with colleagues? Talk to our Training Advisors about our corporate training options for more details.