How COBIT 2019 Certifications Can Boost Your IT Governance Career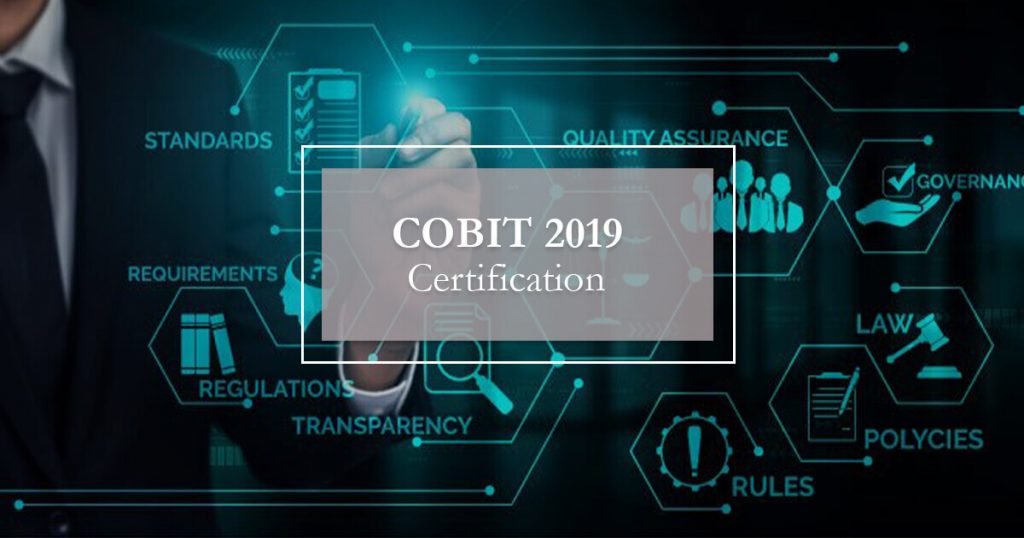 Information is a critical asset for businesses. In fact, it's vital for the survival of organizations in today's digital economy. Growing organizations cut no corners in ensuring the security and governance of this asset. For this reason, IT governance professionals are an important addition to every company. 
IT governance practitioners are responsible for developing the company's approach to IT governance. In other words, they identify and implement good practices that support IT governance, and ensure their adoption across the IT function. 
Why Choose a Career in IT Governance? 
In addition to allowing you to become one of the most sought-after professionals in an organization, having a career in IT governance offers numerous benefits. 
Long Term Career –

The demand for experienced IT governance professionals won't be slowing down any time soon. In fact, similar fields such as cybersecurity are expected to experience shortages by 2021. Therefore, your knowledge and skill will always be required. 

Vital Role at Organization –

Not only will you have a job, but you'll be an important contributor to the company's bottom line. Not only will you save outsourcing costs, but you'll also help increase customer confidence, support business continuity, and ensure legal compliance. 

Recognition by Employer –

As a major contributor to the company's IT governance and security, you can expect your employer to appreciate your efforts through rewards such as higher pay and promotion. 
And these are just some of the benefits of stepping into IT governance. You can expect more depending on the jobs you opt for. 
Why COBIT 2019 is Important for Your Career 
COBIT® is a globally accepted framework for the Governance of Enterprise Information Technology. COBIT helps organizations develop, organize, and implement strategies that support their information management and governance.
COBIT 2019 is the latest iteration of the framework. It combines over 25 years of best practices in governance of enterprise  IT and ensures alignment to various global standards and frameworks. That way, practitioners can design tailored governance systems which maximize their organizations' I&T investments.
The COBIT 2019 certification scheme is divided into two levels:
COBIT 2019 Foundation

– This is the entry level certification. By achieving this credential, learners prove their familiarity with COBIT product architecture, alignment of COBIT with other frameworks and standards, and other basic aspects of the framework. Moreover, Foundation is a prerequisite for the next level, i.e., COBIT Design and Implementation. 

COBIT 2019 Design and Implementation

– After Foundation comes the Design and Implementation credential. Holders of this certification have proven their ability to understand, design, and implement EGIT or enterprise governance of IT. 
Attaining these certifications indicates your seriousness to a career in IT governance. Preparing for the certification exam alone will help you expand your knowledge within this field. After all, the certification offers principles, tools, and models that are recognized globally and proven to be effective. 
And if you decide to go beyond Foundation to achieve COBIT 2019 Design and Implementation, you'll have the knowledge and skill to design governance systems regardless of how complex they are. You'll also help the organization make processes work better in critical situations, and resolve challenges more efficiently. 
Considering the current pandemic and its aftermath, your contributions in this regard will be highly appreciated.  
Support in other IT Governance and related Certifications
By becoming COBIT 2019 certified, you'll receive significant help in preparing for more advanced IT Governance certifications. Some of these certifications are
CGEIT (Certified in the Governance of Enterprise IT) by ISACA:

This is the top premium IT Governance qualification. Knowledge of COBIT plays a very important role in successfully passing the CGEIT certification examination.

CRISC® (Certified in Risk and Information Systems Control) by ISACA

: After CGEIT, CRISC is considered the second-best qualification for IT Governance professionals. COBIT is the heart of the CRISC knowledgebase.  

CISM® (Certified Information Security Manager) by ISACA

: CISM is one of the top certifications for information security professionals. Knowledge of COBIT can be very helpful in passing the CISM certification exam.

CISA® (Certified Information Security Auditor) by ISACA

: CISA is one of the best credentials for IT Auditors. Here too knowledge of COBIT can help ensure you pass the CISA certification exam.

ISO/IEC 38500 Lead IT Corporate Governance Manager by PECB:

ISO/IEC 38500 is an international standard for Corporate governance of information technology. It's published jointly by the International Organization for Standardization (ISO) and the International Electrotechnical Commission (IEC). COBIT is beneficial for understanding the ISO standard and passing the certification exam in the first attempt.
So, Are You Ready for a Career in IT Governance? 
IT governance is important for the present and future of every organization. Therefore, don't miss the chance to become a major player in this field and work your way up with COBIT 2019 certifications.