"What is IT Governance and Why Does It Matter?"
One of the common questions we get is about IT governance and why it is vital for organizations to focus on it. While this hints to a possible gap between IT professionals and business executives, this is one question that should be addressed. Especially considering IT's vital role in today's organizations.
So, What is IT Governance?
IT governance is a subset of corporate governance. It comprises leadership, structures, and processes which enable enterprises to make informed IT-related decisions. That way, organizations can ensure IT sustains and extends their business objectives.
To be more precise, information technology governance ensures IT decisions are focused on:
Ensuring IT supports the enterprise
Monitoring the use of IT to help achieve plans
Using IT strategy and policies to achieve the enterprise's purpose
Aligning IT with the organization's goals
IT governance is also crucial for ensuring that decisions related to information technology consider the enterprise's goals and objectives. Some of the questions this framework answers include how IT is performing, what the ROI of IT is, and what key metrics management needs.
Why is IT Governance Important?
Information technology governance helps achieve desired outcomes and behaviors because of its relation to the effective value creation of IT investments. Therefore, it's considered the reason for achieving excellence while managing IT.
IT governance further provides focus on cost while ensuring effective communication. This is possible through establishing joint accountability for IT investments. Other equally important benefits of this subset of corporate governance are listed below.
Better Alignment between IT and Business Objectives – Governance is essential for aligning IT investments with the organization's objectives. This, in turn, ensures the business' responsiveness to challenges while helping manage IT investments both in the present and future.
Enhanced Regulatory Compliance – The use of an IT governance framework ensures holistic regulatory compliance. This is because it helps govern data and information technologies.
Effective Resource Balancing – Effectively managing critical resources ensures added control in planning and organizing IT initiatives. As a result, the required IT support for IT investments can be ensured.
Better Risk Management – Being proactive while managing organizational risks ensures managers and leaders are up to date with the risks associated with IT initiatives. This, in turn, allows them to plan and implement risk mitigation strategies on time.
Improved Decision Making – One of the benefits of information technology governance is objective decision making. It makes leadership commit to efficiently managing and controlling IT activities in the organization.
Added Accountability – Governance aims to improve accountability. Therefore, managers will be able to enforce the responsibilities related to managing their IT programs.
How to Bring the Benefits of IT Governance to Your Organization
The need for information technology governance prompted the creation of frameworks and standards. Of these, the most widely used is COBIT 2019.
COBIT (Control Objectives for Information and Related Technologies) is a framework that integrates with related standards while incorporating performance management and facilitating openness.
Through two sets of principles, the framework describes the requirements for building the organization's governance system. The principles further derive 40 governance and management objectives, each of which relates to a process carried out either by governance or management groups.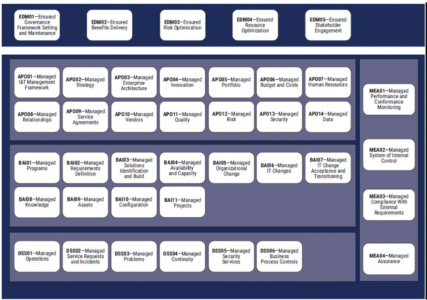 So, what makes COBIT the choice of industries such as government, energy, and banking? Here are some benefits to consider this framework.
COBIT provides globally accepted principles, practices, tools and models which aim to add trust in and increase value from information systems.
It is open-ended. This means it will continuously expand to incorporate the latest governance and management techniques, standards, frameworks, and resources.
It helps in the creation of tangible IT goals that relate to business strategies. It further establishes controls and tools to help achieve objectives such as the COBIT Maturity Model.
COBIT can be customized easily according to the organization's priorities. With the help of COBIT Performance Management, practitioners can further improve their frameworks to best meet the organization's goals.
The framework guarantees compliance related to technology, security, and privacy. This is because compliance legislation is factored in it, and strict control and monitoring elements are in place. Moreover, COBIT 2019's approach to performance and compliance reduces maintenance costs, boosts client satisfaction, and protects against attacks.
Ready to Contribute to Your Organization's Information Tech Governance?
With what you now know about IT governance, all you need is a COBIT 2019 certification. Not only will this credential prove your knowledge and skill, but it'll add weight to any recommendations you make to decision makers. After all, you're the expert on COBIT.
You can start your certification journey with COBIT 2019 Foundation and move on to COBIT 2019 Design and Implementation. If you need any help or guidance, our Training Advisors are always a message away. So, get in touch and let's get you certified.