Why IT Service Management is a Must for Every Organization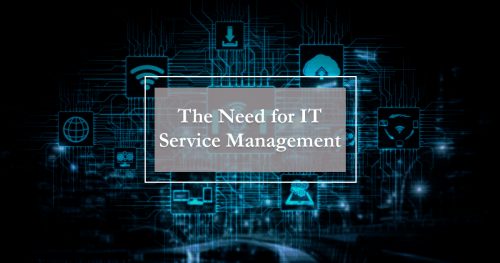 IT service management (ITSM) comprises policies, processes and procedures which support the implementation, improvement, and support of IT services. It goes beyond hardware, network and systems to focus on improving IT customer service. All while ensuring alignment with business goals.
However, all of these are just textbook terms to explain why ITSM is valuable for today's organizations.
Through the following lines, you will learn about the true value IT service management has to offer.
The Benefits of IT Service Management for Today's Organizations
Ensuring effective IT service management can help organizations stay ahead. This is because its processes, policies and procedures empower organizations through the following ITSM benefits.
Enhanced Efficiency
Implementing ITSM enables organizations to get the most out of their resources. For instance, the component IT Asset Management helps optimize the lifecycle management of IT assets. It further ensures cost-effective strategies are used for asset procurement.
Reduced Operational Costs
The money invested in IT infrastructure, operations, and their staff is estimated to comprise 60% of total IT spending. As organizations grow and mature, they will be forced to add more staff or else they will be burdened by tactical operational processes.
With ITSM, organizations can scale their operations more efficiently while avoiding excessive hiring. This is because ITSM promotes automation, therefore reducing manual workload on IT professionals.
Reduced Risk
Change is vital for any organization that wishes to thrive. However, if poorly planned or communicated, changes can turn into significant risks.
As change is part of many ITSM frameworks, organizations can effectively implement new changes without interrupting operations. Further ensuring smoother transitions are formalized roles and policies. Through them, issues can be identified before deployment to save time and effort.
Improved Accountability
ITSM improves accountability in two ways. First, it standardizes services, which in turn improves compliance with IT policies and procedures related to service delivery. This further helps IT managers better track actions, address incidents or service requests, and verify services are delivered consistently.
Second, IT service management improves accountability within the activities carried out in the organization. As IT is critical for both core and support functions, ITSM can help align business activities with the business.
Added Visibility
In this case too, ITSM improves visibility in two ways. One, it ensures better visibility into IT operations. As a result, the organization knows which activities its IT operations staff has prioritized at any time.
Two, ITSM adds visibility into performance. Through its processes and rules, it allows the processes of an organization to mature further along the Capability Maturity Model Integration (CMMI) scale.
Better Service and Customer Experience
ITSM delivers better service delivery and customer experience through several components. Two of these are the service strategy process and formalized ticketing and incident response systems.
Implementing IT Service Management via ITIL 4
There are so many ITSM benefits your organizations can reap. However, if you wish to get all of them, you need to implement ITIL 4.
ITIL 4 is the latest version of the globally-accepted IT service management framework. Surveys indicate that over 52.6% of professionals have adopted ITIL or plan to adopt it in their organizations. Especially as ITIL has proven to be able to make businesses more sustainable after the pandemic.
With ITIL 4, your organization's ITSM benefits in three ways:
Focus on Co-creating Business Value – With ITIL 4, organizations can focus on co-creating value across the organization. This is possible through the framework's Service Value System and Four Dimensions of Service Management.
Integration with Other Ideologies – ITIL 4 is the most flexible version of the ITSM framework. It incorporates ideas and concepts from new methods of work such as DevOps, Agile, and Lean.
Focus on Practices – Previously, ITIL focused on processes. However, the latest update focuses on practices. Processes are now within these practices. These aim at helping organizations achieve digital transformation.
You can refer to this comprehensive guide on ITIL to explore any of the concepts mentioned above.
Want to Deliver ITSM Benefits to Your Organization?
To effectively deliver the benefits of IT service management to your organization, you need to adopt ITIL 4. For that, you need ITIL certified professionals who will guide you through the implementation.
ITIL certified professionals have more knowledge and skill on the ITSM framework. They also possess a holistic view which makes them better contributors to your processes. Moreover, as they gain experience, their roles evolve accordingly.
The certification journey begins from the ITIL 4 Foundation certificate. Achieving this certification testifies to professionals' understanding of the terminologies used for service management.
Foundation is also a prerequisite for the advanced ITIL certifications in the Managing Professional and Strategic Leader streams. Upon achieving these five certifications, professionals can pursue the ITIL Master certification.
LearningCert can help you or your workforce become ITIL 4 Foundation certified. We offer virtual instructor-led sessions regularly, or you can choose our self-paced training course. You can also talk to our Training Advisors about our corporate training options for five or more trainees.
We hope to see you soon as one of the leading companies using ITIL 4 for IT service management purposes.