A Quick Peek into the New ITIL Managing Professional Qualifications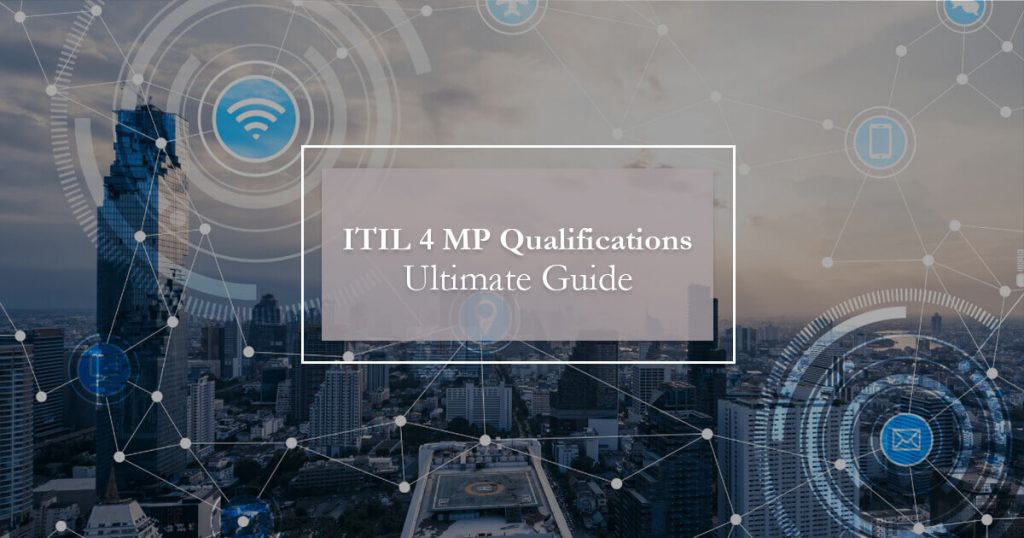 AXELOS, which owns and manages the intellectual property of ITIL, began rolling out the latest version of the framework in 2019:  ITIL 4. The initial Foundation level was available from February onwards. However, it wasn't until 2020 that the second round of certifications saw the light – The  ITIL 4 Managing Professional Qualifications. 
If you've already achieved the ITIL 4 Foundation credential and want to add it to your list of qualifications, here's a quick look at the new ITIL 4 Managing Professional certifications. 
But First, a Quick Look at  ITIL 4
ITIL 4 was created to provide a practical and flexible basis for organizations as they enter the era of digital transformation. It is redefining organizations' IT infrastructure by providing the means to deliver services based on the co-creation of value. The framework also equips IT, teams, to ensure they play a crucial role in the business' strategy. 
With ITIL 4, enterprises and professionals now have the ability to easily adopt the latest technologies, including Cloud, Agile, and DevOps. Professionals also have a flexible operating model for the creation, delivery, and continual improvement of services thanks to the ITIL Service Value System (SVS). The SVS comprises of: 
Another new addition to ITIL is the Four Dimensions Model. Through it, professionals get a holistic and effective approach to design ITIL SVS. The four dimensions (Organizations and People, Information and Technology, Partners and Suppliers, and Value Streams and Processes) provide an overview of creating value from the products and services delivered. 
Through the new additions and improvements,  ITIL 4 brings IT to new heights of efficiency and effectiveness. It also empowers businesses through effective risk management, improved customer relationships, and cost-effective practices. As a result, enterprises are quickly transitioning to the new framework to remain competitive. 
Moving on to the  ITIL 4 Managing Professional Qualifications
After completing the  ITIL 4 Foundation certification, certification candidates have two intermediate streams to complete before achieving the final Master certification. 
The first of these is the  ITIL 4 Managing Professional (MP) stream, which is what you will learn more about shortly. Meanwhile, the second is the  ITIL 4 Strategic Leader (SL) stream. ITIL 4 SL is a two-module stream; it will be released in the first half of 2020. According to the details AXELOS has shared so far, this stream helps practitioners recognize the value of ITIL for IT operations as well as all digitally enabled services. 
Now back to the ITIL MP stream, this stream provides practical and technical knowledge to help professionals run IT-enabled services, teams, and workflows. Therefore, its main target is professionals associated with technology and digital teams.
To achieve the  ITIL 4 Managing Professional designation, you need to complete the following four modules of the stream.  
1) ITIL Specialist: Create and Deliver and Support
The ITIL Specialist – Create and Deliver and Support module is designed for ITSM practitioners managing the operation of IT-enabled and digital products and services as well as end-to-end deliveries. The module covers core service management activities and includes the creation of services. It also covers service performance, service quality, and improvement methods. 
By achieving this certification, you'll have proof of your ability to:
Create, deliver and support services

Plan and build a service value stream to create, deliver, and support services 

Understand how ITIL practices contribute to creation, delivery, and support across the SVS and value streams
2) ITIL 4 Specialist: Drive Stakeholder Value
The ITIL4 Specialist: Drive Stakeholder Value is designed for professionals associated with the management and integration of stakeholders. The module tackles all types of engagement and interaction between service providers and customers, users, suppliers, and partners. That way, practitioners can ensure stakeholder satisfaction and, ultimately, business success. 
By achieving this certification, your employers will be sure of your ability to:
Design customer journeys 

Target markets and stakeholders

Foster stakeholder relationships

Shape demand and define service offerings 

Align expectations and agree on details of services

Onboard and offboard customers and users

Ensure continual value co-creation (service consumption / provisioning)

Realize and validate service value
3) ITIL 4 Specialist: High-velocity IT
The third module of the ITIL MP stream is ITIL 4 Specialist High-velocity IT. This module is aimed at IT managers and professionals involved in digital services or digital transformation projects. It provides them with methods to function within high-velocity digital organizations. This module also highlights the use of Agile, Lean, Cloud, Automatic Testing, and other practices and technologies to speed up product and service delivery.  
This qualification testifies to your ability to:
Understand concepts regarding the high-velocity nature of the digital enterprise

Comprehend the digital product lifecycle in terms of the ITIL 'operating model'

Understand the importance of the ITIL guiding principles and other fundamental concepts for delivering high-velocity IT

Contribute to achieving value with digital products
4) ITIL 4 Strategist: Direct, Plan, and Improve
The Direct, Plan, and Improve certification is designed for senior or mid-level managers involved in shaping direction and strategy or developing a continually improving team. This is a universal module which both the ITIL 4 Managing Professional and Strategic Leader streams share. Its purpose is to provide practitioners with practical skills for creating a 'learning and improving' IT organization. The module also covers the impact of Agile and Lean and how they can benefit organizations. 
Upon achieving the ITIL 4 Strategist Direct, Plan and Improve credential, you will prove your ability to:
Understand the key concepts of Direct, Plan & Improve

Understand the scope of what is to be directed and/or planned

Use key principles and methods of direction and planning in that context

Understand the role of Governance, Risk, and Compliance (GRC) 

Integrate GRC principles and methods into the service value system

Use the key principles and methods of continual improvement,

communication and organizational change management, and 

measurement and reporting in direction, planning and improvement

Direct, plan, and improve value streams and practices
Becoming ITIL 4 Managing Professional Certified
To make your way towards becoming an  ITIL 4 Managing Professional, you need to become certified in each of the stream's four module. 
To be eligible for the certification exam for each module, you need to meet the following criteria:
Achieve the

ITIL 4 Foundation

certification

Complete accredited training for each module to understand the core material
ITIL v3 Experts or certification candidates who obtained 17 credits can transition to ITIL 4 MP with the ITIL 4 Managing Professional Transition Module. By enrolling in an accredited course, they can study the key elements of the stream's four modules as well as the key concepts of ITIL 4 Foundation. 
So, Are You Ready to Achieve ITIL Managing Professional Certifications? 
Gain a competitive edge as an ITSM professional by making your way towards ITIL 4 Master. Go beyond the knowledge you received in ITIL 4 Foundation and start preparing for each of the MP stream's certifications with our accredited trainers. 
Enroll in one of our courses to meet your examination eligibility requirement and ace the exam from the first go!